Our "lessons learned" so far (and it gets more and more every day)
Now, we are more than one year permanently living aboard and travelling with our MAYA. We have crossed the Atlantic and the Caribbean and after the transit of the Panama Canal, we are now in the Pacific. At the moment we are still enjoying the island world around Panama (currently we are on Las Perlas). But soon we want to go to Ecuador to prepare the Pacific passage to the Marquesas. I think this is a good time to reflect on what works well and what doesn't. In the following article, you find some of my preliminary conclusions.
It is always some effort to maintain an oceangoing vessel. During the refit of Maya and also during our travels we had to repair, renew and maintain quite something. We learn every day new things about the boat and increase our knowledge of equipment quality and usefulness. That's why we thought it might be a good idea to share our "lessons learned". Of course, this is very subjective and the experience with one or the other thing may vary from boat to boat (and owner to owner), but this is our current view. This "lessons learned" article focuses mainly on equipment and technical issues. However, that doesn't mean we haven't learned anything in other domains ;).
A reflection on "do's and don'ts" for boat refit and maintenance.
So, here are a few thoughts of what we think was a good idea and also what we would do differently next time:
AIS
Active AIS is one of the "must-haves" for an ocean-going vessel. It is really helpful in particular in areas with intensive commercial shipping activities. We changed to installation of the antenna from the arch at the back of the boat to the mast top for an increased reach. Some people say that a splitter (VHF radio/AIS) is not a good idea – for us, it works like a charm.
Boat
We love our Maya (Najad 34) and we are very convinced that it is a very solid and ocean-going vessel. We put a lot of effort in to make the boat our home and we actually feel very comfortable with it. Nevertheless, sometimes we dream about our next boat. Maybe it could be a little bit bigger?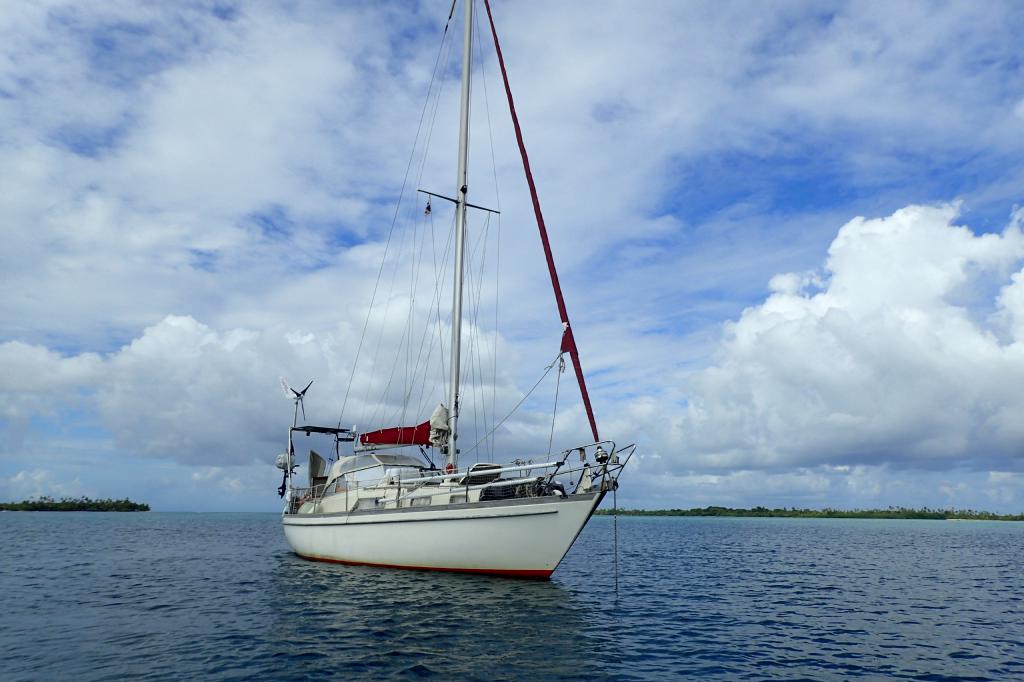 Chart Plotter
We have a B&G chart plotter, we use the NavionicsApp on a tablet and we use OpenCPN on the laptop. On one hand its great to have all this because every system has advantages and downsides in day-to-day use. E.g. for the navigation to a new marina with love the tablet because it is handiest and the zooms work very well to clearly identify even rather narrow waterways and narrow spots. Also, it is more convenient (and economical) to have the latest chart updates available.
The fix installed chart plotter has also benefits (e.g. comprehensive communication with other NMEA devices). However, I think given the comparatively high price of the device and the limited product life-cycle it is the device I'm not sure if I would buy it again. Additionally, it was the only device that didn't work during our Atlantic crossing (see article). At the end it's probably more reasonable and cheaper to buy 2 tablets (for full redundancy) instead of one chart plotter and to use software that provides regular updates (not only until the next generation of proprietary hardware is in the stores).
We also have some paper charts for navigation, but to be honest we hardly use them and keep them only as a backup (just in case).
Cooker
We often hear the question: Gas or Petroleum? Our answer: Spirit (Alcohol). We bought a small spirit cooker as an interim solution, but we liked the performance and the easy handling of the cooker (Dometic Origo 3000). So we kept it permanent. We use it for all cooking, even including baking bread. I was quite sad when I heard that the production of this cooker is stopped. Maybe there is some producer who would like to step into that niche? I would be happy to be a beta tester ?.
Dinghy
We started with a very simple dinghy and were reasonably satisfied with it in Europe and also at the very first anchorages in the Caribbean. However, it was clear to us that there could be problems with the material (PVC) in the mid-term. Furthermore we had to realize in anchor bays, where it is a bit further to the dinghy dock, that it is hardly possible to arrive dry when we have to go against waves (which is a bit annoying in the everyday use). Therefore we decided to upgrade. Best would be of course a dinghy with a rigid hull. However, we can' t store this on our boat. Therefore we decided to use a dinghy with an aluminium floor and inflatable V-shaped hull. From my point of view the 2nd best solution and for us a significant improvement. We ordered it directly in China and it was much cheaper than all local offers. We are very satisfied with our new dinghy.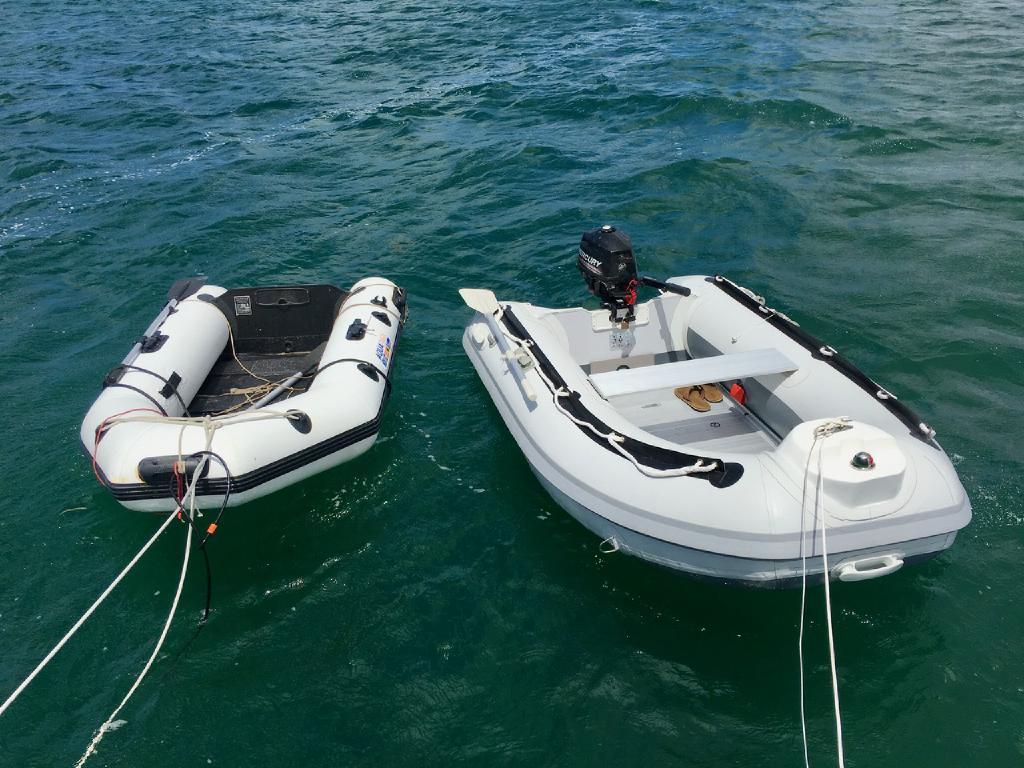 Hammocks
When we are in a marina or at anchor, we use 2 simple hammocks. It is easy to install. We usually put it on the boom and solar carrier. On other boats, we've also seen from the mast to forestay. They are really great for spending time outside, relaxing or reading a book. It's like an "extra cabin" on the boat.
Sails
I think that for barefoot sailing on the barefoot route no special sails are really necessary. On the contrary, I am convinced that high-tech sails rather increase wear and tear and offer little added value. We have only had a storm jib and a 2nd genoa (following the pattern of the existing ones) made new in order to be able to sail on downwind courses with 2 outspread genoas. Both genoas are sailed on one Furlex. We were able to use this for the Atlantic crossing and in the Caribbean from Grenada to Bonaire. However, we could have managed with only one genoa (and possibly a jib) and would have saved not only money but would also have a little more space on board.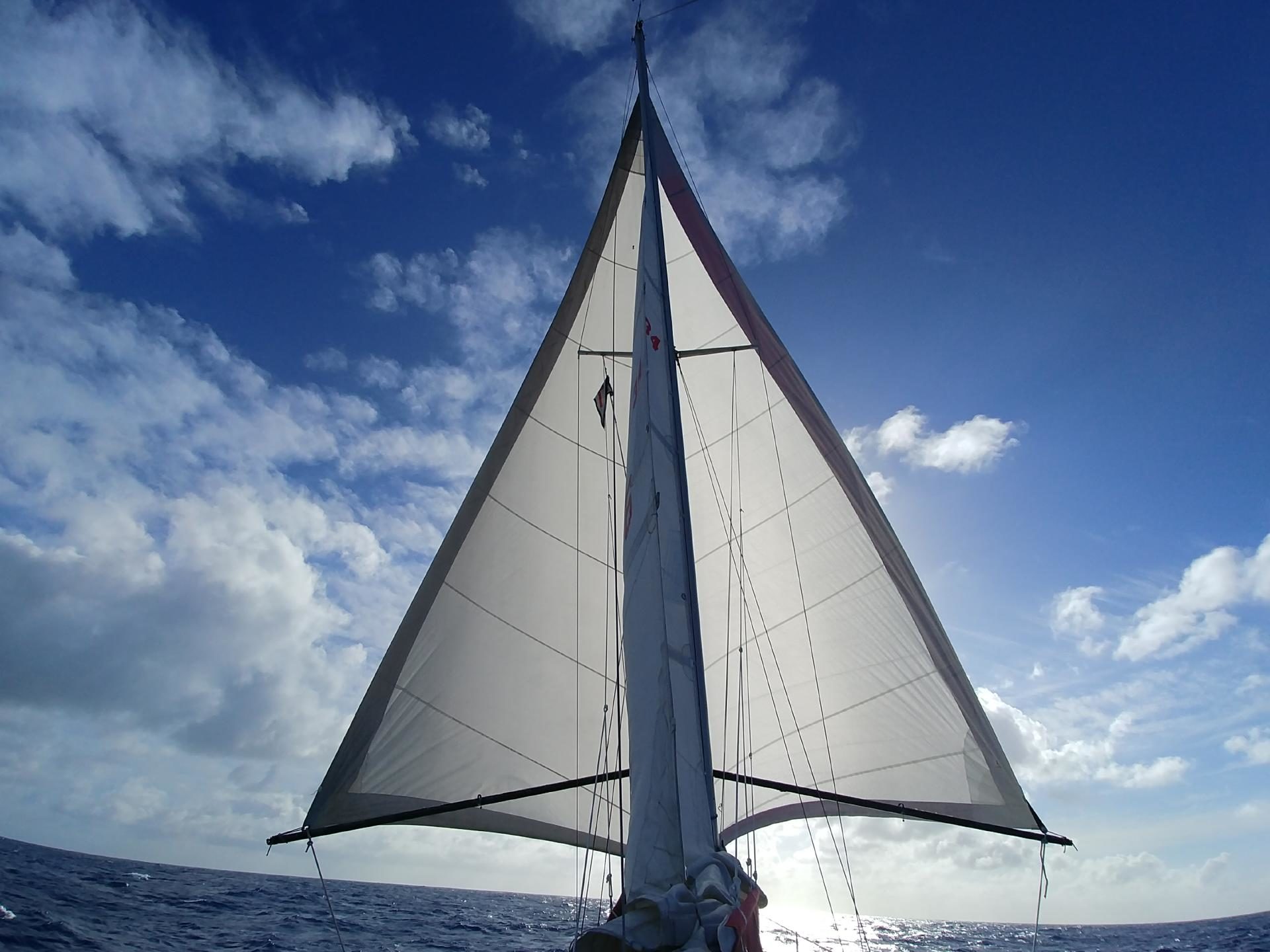 Our sails:
2x Mainsail (1 of it as backup)
2x Genoa (for downwind courses, but also as backup)
1x Jib (practically never used so far)
1x Storm jib (never used so far and hopefully we'll never have to)
2x Spinnaker (taken over from the previous owner. Not really necessary, but sometimes quite nice in light winds).
We decided against a try-sail and got a third reef made in the mainsail instead. I think that you should always prefer robust material (e.g. Dacron).
We have inherited many sails from the previous owner and are therefore, in our opinion, "over-equipped". A 2nd mainsail, the additional jib or the spinnakers are not really necessary in my opinion.
Solar
One of the best ideas to gain energy on a boat. Our solar works like a charm. We never had any trouble with it. We even increased the number of solar panels. Now we have instead of 200Wp an installation with 440 Wp (2x 100Wp fix + 2x 120Wp flexible solar). This is usually more than enough to provide energy not only for navigation electronics and fridge but also for our consumer electronics (laptop, radio, smartphones…) and our watermaker.
SSB or Satellite Phone
We have an ICOM SSB with Pactor modem. It was quite an effort to install the unit and also quite expensive (even our used one was not cheap). I think it's awkward in day to day operations and we rarely use it. I would recommend this only for people with extensive ham radio experience. All others are probably better off with a satellite phone (like Iridium Go).
Teak oil
My opinion: Teak oil is a waste of time and money.
Teak cleaner
There are actually some quite good products in place. After just one treatment our Teak looked like new. This was a positive surprise for us, even though the effect doesn't last very long. Please write to me if you want to know which product we liked most.
Watermaker
Again we had some trouble with the installation of the unit. We got an incomplete delivery from the dealer (a small shop in the UK). Only with some interaction with the producer (and a few additional parts), we could get the unit working. It is sometimes a good idea to contact the factory directly. Now, it works quite nicely.
We think that a watermaker is not necessary for bluewater sailing. We know many sailors without, but it really improves the quality of living. It does not only give more freedom at remote anchorages but also in marinas with questionable water quality (you don't need to go to very exotic places to find such marinas). Furthermore, it reduces plastic waste.
Wind Generator
This is something that I would probably not install again. It only produces a noteworthy amount of energy when we have more than 5 Bft. wind. Usually, we prefer to stay in wind-protected areas, like bays in wind shadow or protected marinas. At this places, the energy output is very limited. Even on the downwind sailing during our Atlantic crossing with stable 5 Bft. trade wind (real wind) the energy contribution was rather moderate.
Additionally, we think that the units (even silent ones) are still pretty noisy. That's why I'm not sure if I would install a wind generator again, but would probably prefer additional solar power.
However, if you want to stay in an area with stable (steady) winds and limited sun it might be a good thing to have a wind generator. For example, on the ABC islands, you have stable winds and we could cover almost all our energy needs just with our Superwind 350.
Windvane (mechanical self-steering)
We experimented with 2 different types of wind vanes (one with emergency rudder and one without). The unit with emergency rudder was difficult to mount and did interfere with our arch (A-frame) – so we decided to get rid of it. In fact, we felt ill-advised by the producer of the unit. He knew the shape of the boat and our arch installation, but it felt like he didn't really take care in the pre-sales phase, but just "ensured" us that it will work. It was our mistake to buy it on this "promise". Still, it didn't work for us and was one of the more expensive "lessons learned".
We also mounted a wind vane with servo pendulum. It was also a bit tricky to get a proper setup with this unit. Thanks to the help of two fellow sailors we got it finally running. Now, it works like a charm and it does most of our steering and steers really good, but I wouldn't want to rely on it for long passages with varying weather conditions. At the end, we decided to go for an additional electronic autopilot (for full redundancy).
In general we are more convinced than ever that you should do as much as possible on your own. What you can do yourself – do it! What you can't do – learn it! If you really can't learn it – supervise the vendor closely!
Please contact us, if you have any questions or use the comment block below.